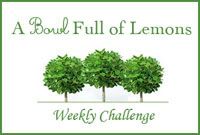 I'm finally getting my recipes and cookbooks organized. I have a big basket that I keep all of my cookbooks in

(complete w/ chalkboard tag)

-

see previous post

, and I have a Longaberger Recipe Basket to hold most of my recipes cards.

What I had the most trouble with was keeping track of all the recipes I tore out of magazines or those I found online. I saw a scrapbook type recipe album at Michael's, and considered buying it, but decided against it because (1) it was too expensive, and (2) I didn't need another scrapbook to work on right now

(since I'm behind in my scrappin' already).

Then, I saw those cheap white binders at Walmart and decided to make my own. I bought some pretty floral pocketed dividers, some clear page protectors, and made a cover sheet from clipart on the computer. I know it could have been a bit fancier, but it works just fine. Everything in one place. I love it-Check it out!!