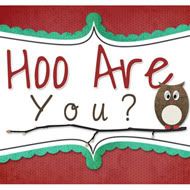 1. Do you sleep with the window open or the fan on no matter
what the weather is like?
I sleep with a fan year round. Even when I'm away from home and I'm at a hotel, it is often too quiet, so we always turn the a/c on, even in winter.
2. What is your favorite comfort food?
Definitely something involving cheese....mac & cheese, a grilled cheese, cheese fries, LOL....and not that yucky packaged sliced stuff, I prefer a block of extra sharp please. :O)
3. Do you ever go to a chiropractor?
I've never been to one, but could use one as my back is often achy!
4.What is your most memorable Halloween costume growing up?
None really stands out, but do you remember those that came in a box from the 5 & 10 cents store??? It was so exciting picking out what you wanted to dress up like. They were so simple, just a plastic mask & a cheaply made suit that tied in the back, but I got so excited when Mom took me to the store to pick it out!!! Of course, I would never put one of those costumes on my kids.....had to have a costume from the Disney Store or better yet, a hand sewn costume. I love Halloween & trick-or-treating, and picking out the costume is always the best part!!
5.Do you prefer the sunrise or the sunset
?
Since I rarely get up in time to see the sunrise....LOL....I'll say sunsets are my favorite. I did manage to catch a picture of this beautiful sunrise while staying at a hotel on the beach in Va. Beach a few years ago. Breathtaking!!!