For several years, I played along with
Five Crooked Halos
doing Five Question Friday. It was a fun way to share a little more about yourself and always gave me a blog topic on Fridays.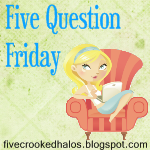 I first found it in April 2011 and kept up with answering those 5 Q's pretty much every Friday until it fizzled out in 2014.
I'm bringing 5Q Friday back by digging in the archives PLUS I'll be starting my own linky party that hopefully others will join in for and link up!
Five Question Friday 01.12.18
(1) When was the last time you reconciled your checkbook?
April 2011 -
A few days ago. I use a checkbook and register, but go online every few days to bring it up to date.
January 2011 - I still bring it up to date every few days or at least once a week, however, since the holidays I haven't been as faithful. Yesterday, I brought out my home binder and updated it for 2018 as well as starting a new check register which I'll bring up to date today.
(2) Are you a shower or long bath kind of person?
This hasn't changed at all over the past 7 years.....I take a bubble bath EVERY night!!
(and while we are talking about baths....one of my favorite products is Neutrogena Rainbath)
(3) Do you wake up before your alarm, with your alarm, or after snoozing several times?
April 2011 -
I'd like to say I get up as soon as the alarm goes off, but I don't. DH gets up...tells me to wake up, he gets dressed....tells me to wake up....feeds the cat and brushes his teeth.....tells me to wake up.....finally, I get up:(... but I'm definitely not the morning person he is!!
January 2018 - I think this is one of the biggest changes I've made
since then. First, Peter now commutes to work 2 weeks out of each month then home the other 2, so when he's home there is no
need to alarm the clock. Secondly, a few summers ago, I became a morning person and absolutely love getting up early, before the day gets chaotic! So, to answer the question, I wake up naturally between 5:30 and 6:00 without the alarm. :O)
(4) When was the last time you bought a new comforter for your bed?
May 2011 -
About 2 years ago. It's a really pretty set from the Martha Stewart line- the colors are mocha & light jade.
(here's a pic right before the bedroom makeover in 2014)
January 2018 - I switched to this white duvet after we did the little makeover in our bedroom.
I love the crisp white and adding pops of color. I'm still using the yellow and grey but have plans to update our bedroom soon!
(5) Where do you hide things when visitors pop over or do you let them see the real deal?
November 2011 - This one's easy.....I just "hide" stuff in our bedroom and close the door. Shhhh...don't tell anyone! LOL
January 2018 - I'd still say our bedroom, although I've mellowed a bit over the years and try to keep things real.....a messy house is real life...most all of us don't have magazine perfect homes all the time! LOL
(And you do know nobody ever "pops over" when it's looking perfect! LOL--NEVER)
Hope you will link up and share your answers to my new (revived) post thread
Five Question Friday!! :O)