2016 Home Organization 101: Week 1 - The Kitchen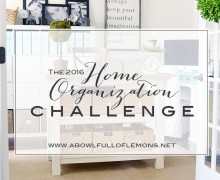 Week #1
starts in the kitchen and here is the checklist:


Today, I did half of the cabinets and drawers, taking everything out, culling over, grouping like things together, and putting back. Clean and organized!

I love my label maker for organizing projects.

Here are a few before/after pictures.
There was way too much junk in this cabinet (and pretty much all the cabinets/drawers)....
after....
Drawer #1
and now, organized....
I keep most of my office supplies in my desk drawer, but keep these things handy in a kitchen drawer, since I use most every day.
Drawer # 2 - holds foil, ziploc bags, etc., tea towels, dish rags, pot holders & trivets. This drawer just needed to be tidied up and I made a list of things I need/low on.
Drawer #3 - this drawer holds everything I need for the budget/bill paying.
It also holds my savings jars. Remember the
money challenges
I started last January???
I'm almost halfway with the dime challenge (1 full water bottle=$100)
I failed again at the 52 Week Money Challenge. I get about half way, then end up taking the cash for something! We are trying it again, but this time, I put Peter in charge and we are doing it this way....
I did finish this one though....
and have started again this year!
Tomorrow, I will hopefully finish the rest of the cabinets/drawers, and move on to the countertops.
It seems like a lot to do in just one week, but even if I don't complete the entire list, at least I am on the right track to getting organized!!