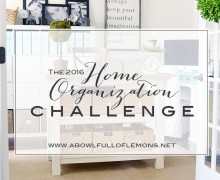 2016 Home Organization 101:
Week 2 - The Pantry
I am following along with
A Bowl Full of Lemons
for week two of the organizing challenge. Last week, we started in the kitchen and I did most of the to-do list.
I finished the cabinets and countertop, and cleaned out and organized the fridge/freezer. I didn't clean the stove, as I just ran the self-clean in the oven right after the holidays. I still need to clean the dishwasher.
I don't have a pantry, only a pantry cabinet and a cabinet that holds all canned/packaged foods. As part of the kitchen challenge, I did the pantry cabinet, so I only had this cabinet to organize.
I also cleaned out and organized the cabinet that holds spices/baking products/etc.
Bins, baskets, and jars were recommended for keeping the pantry neat and organized, so I added some labeled bins here.